10

Top Benefits of a Group Cruise:
Group cruises are popular because there are so many benefits for groups.
1. REDUCED PRICES & OUTSTANDING VALUE: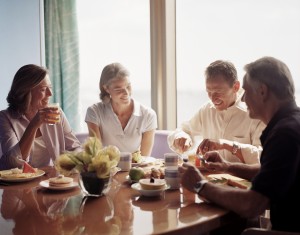 Each person in your group will save money with special discounted group fares on the various cabin types. CRUISESETTER will negotiate the best rate for your group.
A cruise is like an all-inclusive resort, but provides better value. The lower group price that each person pays includes virtually all the costs on the cruise – accommodations, meals, 24-hour room service, activities on board, entertainment, meeting rooms & equipment and health & fitness club privileges.
2. FREE GROUP AMENITIES:
CRUISESETTER can offer your group, a choice of a number of complimentary group amenities that will add further value and enjoyment for your group. These group amenities include bottles of wine, group meal at the reservations-only restaurant, spa services, cocktail party, bathrobes, photos, cruise video/DVD, cabin upgrades and even complimentary berths! Family Reunion Programs can include a cabin upgrade, fountain soda package, family photo and more. A Charity Group can possibly receive a monetary donation for each cabin booked.
3. THEME & SPECIAL-INTEREST PROGRAMS:
A cruise ship is a perfect site to enjoy a theme and special-interest program. A cruise ship has the function rooms, as well as support and technical staff to host a great program. CRUISESETTER's staff is experienced in arranging and customizing special-interest and theme cruises ensuring you a worry-free program that will be a big success and memorable for all!
4. CORPORATE FUNCTIONS:
An increasing number of companies are utilizing cruise ships for business functions. In many ways a cruise is a better alternative than a resort. A cruise is a desired setting to host successful business programs because it is a unique venue that includes a wide-variety of activities and entertainment choices while providing quality meeting facilities, equipment and fine-dining at a lower cost than a resort. Please see the Corporate Section of this website to learn more about corporate opportunities at sea.
5. COMPLEMENTARY FUNCTION ROOMS & EQUIPMENT:
A cruise ship offers your group a number of fantastic venues and complimentary services, like nowhere else! A cruise ship offers your group a number of beautiful, comfortable areas and rooms onboard to have your private group functions. Whether your group is 10 people or a few hundred people, a ship has the facilities for your group to meet, often at no cost or at a minimal fee! On a ship, your group may have their functions in a private meeting room, conference room, in the theater, on deck around the pool or even in the piano bar! If necessary, CRUISESETTER will work with the cruise ship to change the daily programming to accommodate your group's needs. As well, for your meetings most cruise lines offer a complimentary sound system, podium, projectors, screens, flip charts and even coffee, tea and assorted snacks! These complimentary group function options not only save your group money, but they also offer your group a unique venue to meet and enjoy being together.
6. VARIETY OF ACTIVITIES:
There's something for everybody on a cruise! Beside your own private group events, each person in your group can be as busy on board as he/she wishes – or just relax! With over 50 different activities on board, whether one is a child, adult or senior, there is a lot to choose from that will meet each person' individual interests. For this reason, a group cruise is also a popular venue for Family Reunions. Most cruise ships include swimming pools & hot tubs, gambling, spa services, internet cafés, libraries, movie theaters, bridge and card tournaments, sports bars, exercise facilities, kids/teenager areas and programs, video arcades, guest lecturers and naturalists, computer classes, shopping, cooking classes and much more. Some cruise ships even have a rock-climbing wall, boxing ring, wave pool and an ice-skating rink for you to enjoy!
7. GROUP DINING:
Dining on a cruise ship is a memorable culinary experience. Your group members will enjoy delectable meals, first-class service and quality time together when they dine together. As well, on a cruise there is no set meal for everybody. Each person will be presented a menu with a variety of scrumptious dishes to personally choose from. Most cruise ships can also prepare meals for passengers who have special diets such as vegetarian, gluten-free, fat-free, diabetic or kosher at no additional cost. Baby food items can also be arranged. A cruise makes group dining so easy and enjoyable for all!
8. A RANGE OF ACCOMMODATIONS:
Group members can choose their preferred type of cruise cabin. Each person, couple or family can choose the cabin that they prefer at the discounted group rate. Most cabin types are available to a group and may be reserved together in an area on the ship. Cabin categories on a ship are Suites, Balcony Staterooms, Oceanview Staterooms and Interior Staterooms. CRUISESETTER will manage your cabin selection and location.
9. GREAT ENTERTAINMENT ONBOARD:
On your group cruise, your members will experience first-rate entertainment! Today's cruises offer Broadway-like and Las Vegas-style musical revues, comedians, illusionists, magic shows and other top entertainers. Each day is a different show. The ship's piano bar and lively disco are always great places to be enjoyed too. Special children's events keep the younger ones in your group entertained! Some cruise groups even bring their own entertainers or guest lecturers onboard.
10. CUSTOMIZED GROUP SHORE EXCURSIONS:
You can compliment your enjoyable, shared group experiences off the ship too. Once in port, there is a variety of activities that your group can do! CRUISESETTER can arrange private, personalized excursions or programs for your group at a discounted group rate.